Step One: lumpkincounty.compliancedirector.org
Step Two: Click on the "Register" button in the top right corner.
Step Three: Enter the information requested on the registration page. Your email address (preferably your work email) will become your username. You will create your own password. If you do not have a work email address, a personal email address may be used. You should remember your username and password.
The Lumpkin County Keyword is: Ruler (case-sensitive)
Step Four: Once you are in your Dashboard, the modules are listed on the right. Click on the module you'd like to complete (see chart below for modules and custom modules which are required) and work your way through the module. Input your personal information at the end of the module and click "submit." You will then find yourself back in your Dashboard, where you will see the modules you have completed on the left side of the page. Select the next module you wish to complete on the right side of the page and follow the same process until you have completed all the required modules.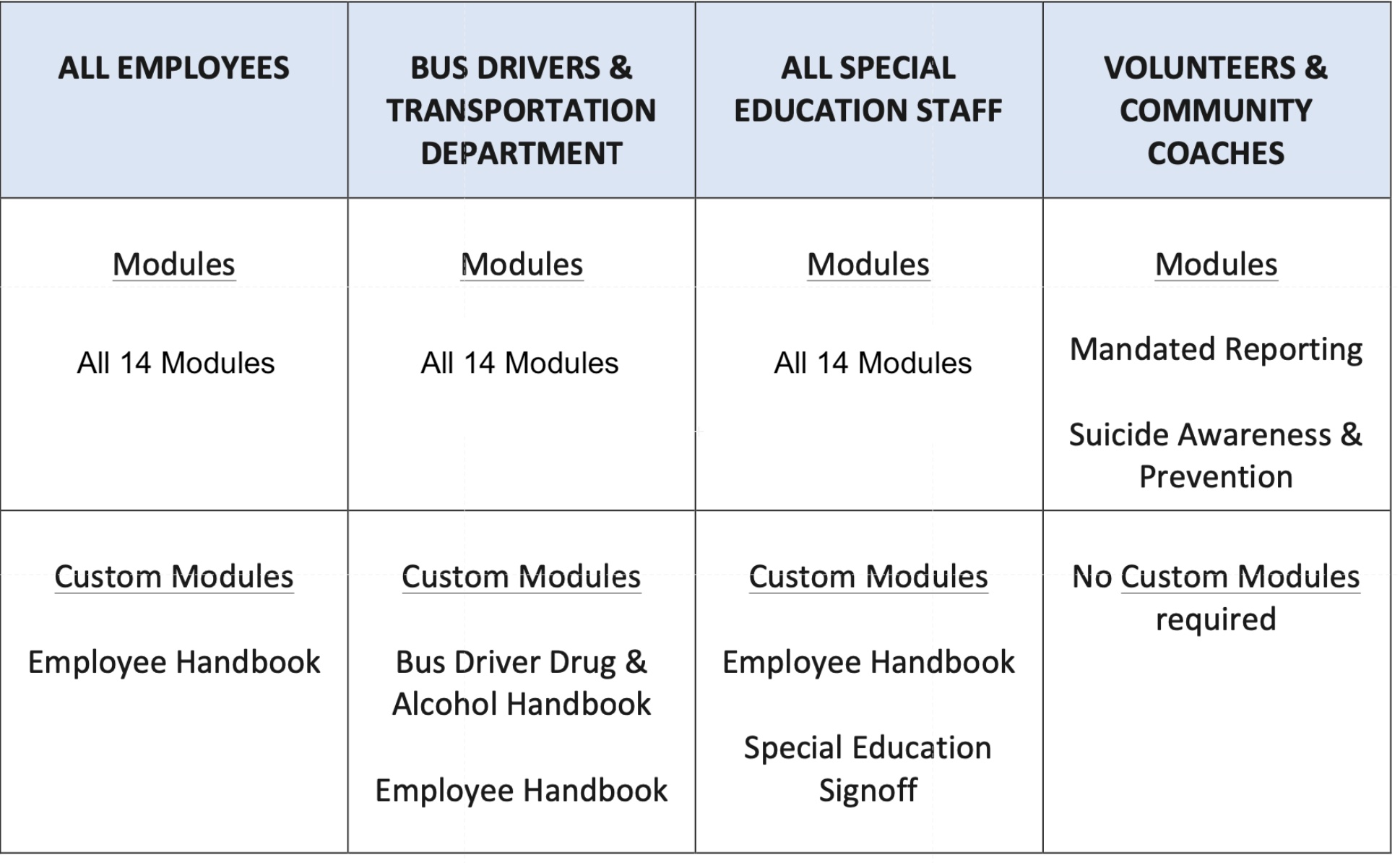 To logout of your dashboard, click on your name at the top of the page and click on "logout."
Important: Once you begin a module, you must complete it in order to create your record of completion for that module. You cannot start, stop, and go back into the module where you left off at another time. You can log in and out of your Dashboard as often as you'd like to take new modules and to see or print a list of the modules you have completed.
You only need to register the first time you log into ComplianceDirector.org. After you have registered your account in the program, you will input your username and password to log-in thereafter.
ABSENCE MANAGEMENT (AESOP)
PROFESSIONAL ORGANIZATIONS
Lumpkin County Education Foundation
lumpkineducationfoundation@gmail.com
Corebridge Financial/VALIC
Contact: Jackie Csonka @ 762.228.0259
Contact: Danny Caldwell @ 706.455.0532
Cetera Investors
Contact: Scott Orr @ 770.818.0700 ext. 102
Modern Woodmen
Contact: Brian Denney @ 706.867.5454
Horace Mann
Contact: Wayne Parrish @ 770.534.1999
Please contact LC Central Office for fingerprinting dates. Please submit the Fingerprinting Consent Form to Sara Beth Rose, HR Admin Assistant, at least 7 days prior to the fingerprinting date.
Cost: $45.00 (payment by check only)
Please be aware costs are subject to change.
TKES/LKES is the evaluation system for teachers and leaders in Lumpkin County Schools.