Press Release
For release: March 24, 2023
At a called board meeting earlier this afternoon, the Lumpkin County Board of Education unanimously approved Superintendent Dr. Rob Brown's recommendation to hire Chris Faulkner as the new Head Coach for Men's Basketball as well as Men's and Women's Golf; and Tess Wright as the new Head Coach for Women's Basketball and Women's Tennis.
With the retirement of Coach David Dowse and the resignation of Coach Michael Parker, Lumpkin County High School posted these positions and began the application and interview process a couple weeks ago.
Dr. Brown shared: "I want to express my utmost appreciation to Principal Billy Kirk and Athletic Director Steve Horton for their work to fill these important vacancies. They invested a great deal of time, interviewed numerous high quality candidates, and narrowed the pool to find the right fit for each program. As we continue to strive for excellence in everything we do, they remained focused on hiring the right coach to take on the next chapter for both basketball programs. Coach Faulkner and Coach Wright come highly recommended and are both very well prepared to lead their respective programs. It is an exciting time for Lumpkin County Basketball!"
------------------------------------------------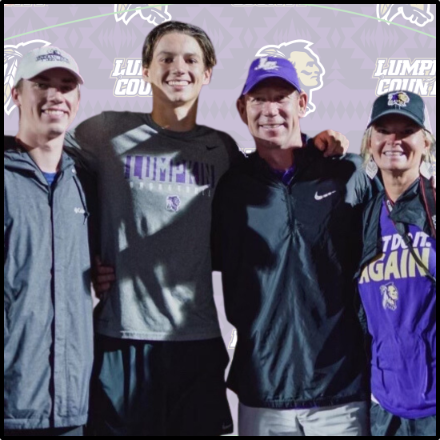 Coach Chris Faulkner with his wife, Daphney, and sons, Gus and Cal
Coach Faulkner will be joining the TR1BE for the 2023-2024 school year after a long career at the University of North Georgia. Most recently, Chris Faulkner held the position of Athletics Development Officer for UNG but previously was the Head Men's Basketball Coach from 2003-2019, Head Men's Basketball Coach at Piedmont College from 1997-2003 and the Assistant Men's Basketball Coach at UNG from 1993-1997. Coach Faulkner holds both a Bachelor of Science and Master of Arts degree from UNG and will be teaching in our LCHS Physical Education Department in addition to his coaching assignments.
"After the interview process was complete, there was no question who would be our next Head Men's Basketball coach. Coach Faulkner needs no introduction to the sport of basketball in North Georgia, and we are fortunate to have a man of his caliber taking over our team to take us to new levels of success. I am proud to have him joining our organization and have the utmost confidence he will take our team to where it needs to be!"
~LCHS Principal Billy Kirk
------------------------------------------------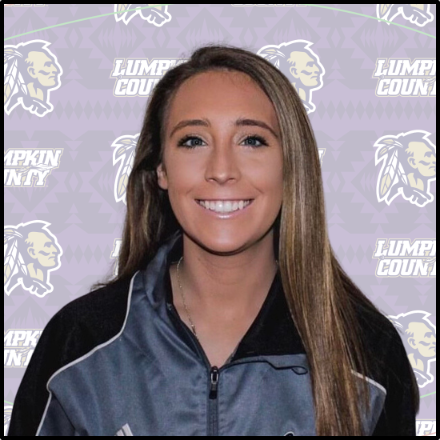 Coach Tess Wright
Joining Lumpkin County as the Head Women's Basketball and Women's Tennis Coach from a successful tenure in Calhoun City, Coach Tess Wright is no stranger to the sports of basketball and tennis. Having coached both sports for Calhoun City Schools (a AAAAA district with a record of success), Coach Wright also played four years of college basketball at Thomas University and Reinhardt University. In addition to her head coaching responsibilities, Coach Wright will be teaching physical education and health courses in the LCHS Physical Education Department.
"I am grateful to have been included in the process of selecting the next Lumpkin County Head Women's Basketball coach. It was important to me that we identify someone who will embrace the core values of our community, our athletic department, and our women's basketball program - someone with the passion and drive to continue moving the program forward. I believe we found that person. Please help us welcome the newest member of our Tribe and next Head Women's Basketball Coach, Tess Wright. Coach Wright, you have my full support. Go get em!"
~David Dowse, Retiring LC Head Girl's Basketball Coach
"Coach Wright absolutely stood out in the many applicants we had for the head coaching position at Lumpkin County High School. Coach Wright exemplifies exactly what we are looking for to continue the tradition of success established here at LCHS; there is no question our girls and our team will be in great hands under her leadership. Welcome to the TR1BE, Coach Wright!"~LCHS Principal Billy Kirk
LC will be hosting a Meet-and-Greet for both Coach Faulkner and Coach Wright on Monday, March 27 at 6:30 PM in the LCHS Café