For the third year in a row, Lumpkin County High School sets a record for the highest graduation rate in school system history. The Georgia Department of Education released the Class of 2021 data this morning, and LCHS increased by almost two full percentage points from the previous highest graduation rate achieved in 2020.
Even though LCHS has broken the previous record more than once, this is the first time the graduation rate for Lumpkin County is the third highest graduation rate for all the school districts in the state of Georgia! In our Pioneer RESA region, Lumpkin County ranks at the top of the list.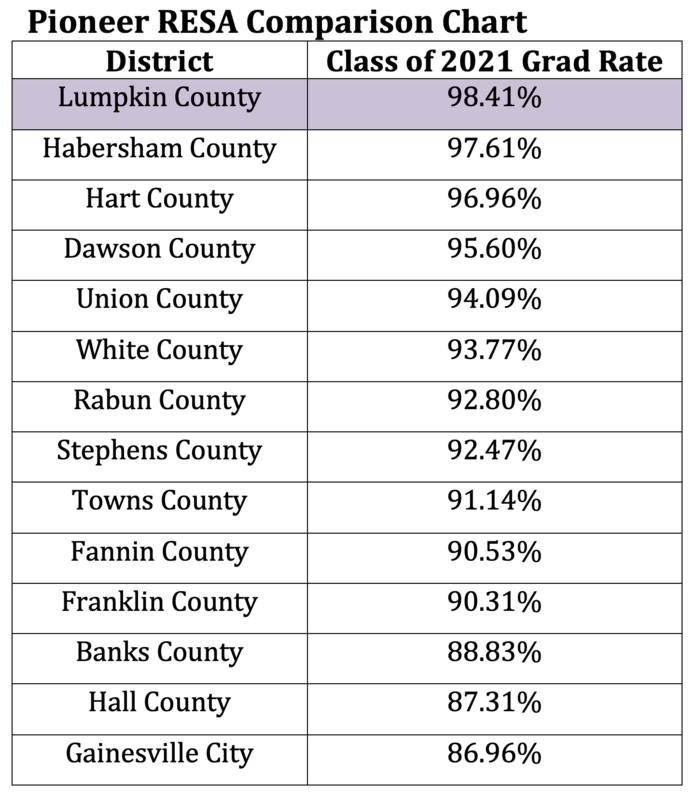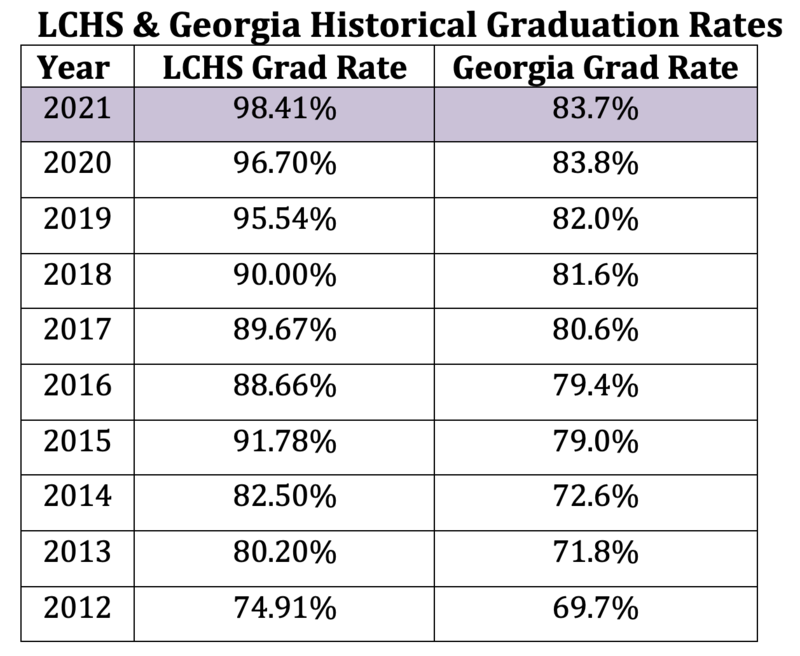 In the state of Georgia, the graduation rate for a school and district is calculated based on a four-year cohort: the number of students who graduate in four years with a regular high school diploma divided by the number of students who entered ninth grade four years prior as the class of 20XX. Therefore, as soon as a student enters Lumpkin County High School as a ninth grader, he/she either counts for or against the district in the graduation rate of his/her cohort.
Now in our sixth year with a comprehensive strategic planning process in place, our fifth year with a full-time graduation coach position at LCHS, and our fifth year with a true nontraditional alternative school, we continue to see the benefits of like-minded educators with clear objectives and measures leading the work in our schools.
Superintendent Dr. Rob Brown reacts to this morning's news: "LCHS Principal Billy Kirk's motto this year is 'in the relentless pursuit of continuous improvement,' and the release of the Class of 2021's graduation rate supports that climate and culture cultivated at LCHS. When Mr. Kirk was named principal of LCHS in 2017, he made it clear that improving the then graduation rate of under 90% would be a daily focus of his leadership and team. Since then, we've seen our graduation rate increase to an even 90% in 2018 and steadily increase year after year to an all-time high of 98.41% with the most recent graduating class. Posting a graduation rate that high is almost unheard of in the state of Georgia, and I am incredibly proud of Mr. Kirk and his team at LCHS for continuing to focus on every student from the moment they enter ninth grade through their high school graduation."
Dr. Brown continues, "Congratulations are in order for every educator in the Lumpkin County School System as I witness first-hand the tireless work of our teachers and staff. By focusing on the whole student and the individual needs of all of our students in Lumpkin County, our school district ensures that we are educating and empowering lifelong learners as they become productive and successful citizens in our ever-changing world. Today is a proud day for me as Superintendent of Lumpkin County Schools, and I couldn't be more excited for this achievement! Keep doing the hard work, LCSS; you are making a difference!"

#TR1BE
#IND1ANS