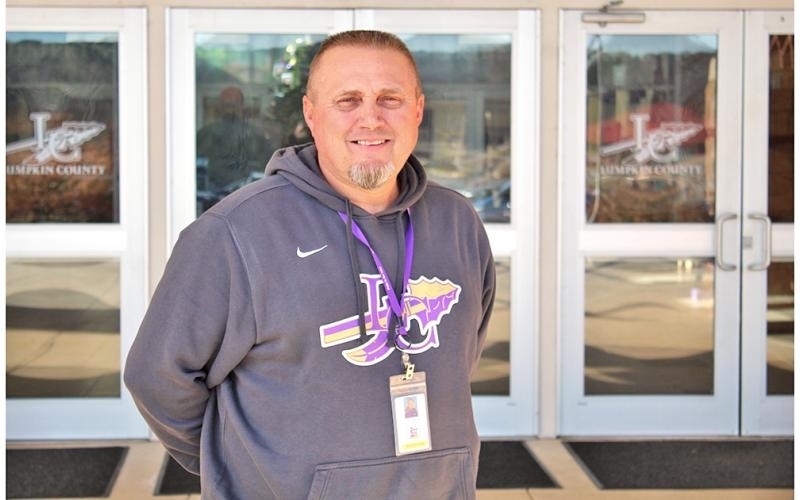 Jenkins Named 7-AAA Athletic Director of the Year
Jason D. Lemley
Tuesday, December 24, 2019
Every winter in the state of Georgia, the Georgia High School Association (GHSA) selects one of the athletic directors from each region to represent that region as the Athletic Director of the Year. Lumpkin County's current region alignment is 7-AAA with member schools Cherokee Bluff, Dawson County, East Hall, Fannin County, Greater Atlanta Christian, and North Hall. This year, Lumpkin County's Athletic Director, Nicky Jenkins, was named Athletic Director of the Year for 7-AAA.
Coach Jenkins is currently in his twenty-eighth year in education, all of those here in Lumpkin County. During his tenure, he worked eight years as a physical education and health teacher at Lumpkin County Elementary, fourteen years at Lumpkin County Middle, and the past six years at Lumpkin County High School.
In addition to his responsibilities as a teacher and department chair, Jenkins served as the athletic director for LCMS for ten of his fourteen years there, and has served as the athletic director for all six years while at LCHS. Every physical education teacher also coaches at least one sport in our county, and Coach Jenkins has spent his time coaching football, baseball, basketball, golf, and cross country.
Erik Cioffi, Principal of Fannin County High School offered remarks on the selection of Coach Jenkins as AD of the year:
"Coach Jenkins has been outstanding to work with for the past six year. He cares about all the programs at his school and is always looking out for the best interest of his student-athletes and coaches. We are so proud of his recognition as 7-AAA Athletic Director of the Year, and we wish him at Lumpkin County the best in the years to come."
Billy Kirk, principal of Lumpkin County High School and a former athletic director himself, added: "I have a front row seat watching Coach Jenkins manage an athletic department with over 700 student-athletes and 75 coaches in which he carries out his duties with great care and enthusiasm for the Indian Nation. I cannot think of a better recognition than being selected by your peers to represent them as the 7-AAA Athletic Director of the Year. I am proud he is on our team serving student-athletes and helping us to be a high-functioning athletic organization."
Congratulations, Coach Nicky Jenkins! Lumpkin County is proud of you for representing our TR1BE so well!